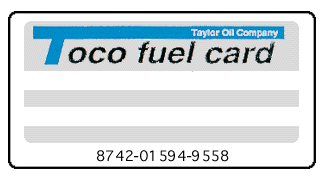 We at Taylor oil are pleased to introduce our new, automated Fuel Management System, the Toco Fuel Card.

After extensive research, we have come up with a system that is flexible, reliable, cost-effective and suited to grow with your needs. We hope after examining our system overview, you'll be as impressed as we are!

Easy-To-Read Statement
Weekly statements will show each customer the usage by vehicle in order to track and forecast fuel costs. Automated entries keep error and misuse to a minimum.
Control your fuel costs, don't let them control you!!

24-Hour Access
At our central location, you can fuel your vehicles 24 hours per day, seven days per week or stop by a satellite location in your vicinity for fueling between the hours of 6 a.m. and 10 p.m.
Either way, it's easy to use Toco any time of day!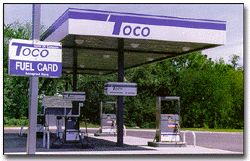 Several Convenient Locations
With our central, 24-hour self service base station, and several other locations spread throughout the area, Toco is easy to reach and the best part is...more locations are on the way!
Click Here for Toco Locations

Ideal For Any Sized Fleet
We give the same comprehensive service to all. The perfect system for major fleet owners and the individual salesperson needing after-hour fueling.
For Fleets from one to one thousand!

Locally Owned & Operated
For more than 60 years, Taylor Oil has provided quality products and service on the Eastern Shore.
Always seeking a better way, Taylor Oil now offers a fuel card with a local, personal touch and the ability to tailor a system to your needs.
Any time you have a question or a problem with the Toco card, you'll be welcome to stop into our main office and get on-the-spot satisfaction from the folks who have served your needs for residential, industrial and agricultural petroleum products since 1927!

No Annual Fee
Your weekly billing for product is all you pay, plus for credit transactions with the Toco card you pay the same as cash...No Extra Charges!